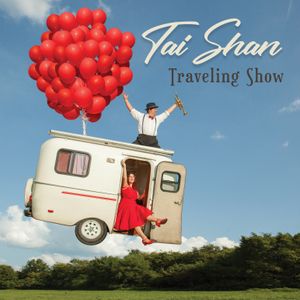 It's hard to believe that the last 2 years of my life have been spent writing and performing on the road, traveling in a 13ft vintage trailer with my husband, and creating this album from the adventures and stories of people we met along the way. It's all thanks to you, for without meeting you on the road at some show, this album would never have existed. 
Listen to the album Traveling Show at: https://fanlink.to/TrvlShw
There were days where I washed my hair in a bucket on the side of the road when I woke up to see a buffalo walking outside our window, when the tide came in and the pacific ocean splashed up against our awning, and where I sat on the tiny couch and felt Sequoia kick from inside my womb for the first time. 
This album is the stories from the 50,000 miles we traveled from the time we left Seattle after being priced out in 2017 to the time we moved to Nashville and found a home to rent to bring our baby girl into the world. 

8:45 was written for a student of mine who had a car accident in a tunnel in Seattle on Hwy 99. Her car hit a patch of oil and smashed into the wall. They had to use the jaws of life to get her out. 'Wishing You Were Here' was inspired by a friend in California who said "The only reason we do anything is out of love or out of fear" It helped me get through a rough patch with my husband, Austin.  'You Look like Love' was written with the 2nd grade class of Concord Elementary in Seattle. 2nd graders and I wrote this song about what love is. One student said "Love is a flower" and I said "Where does that flower grow?", and she responded, "It blooms in your heart" and the song was begun. 
My heart is full of the friendships I have made while on this adventure. All of the people on this list are from those shows. And I took our conversations and wove them into this album. Thank you for your help your guidance and your love.